Explore the real Patagonia
We are located in Chilean Patagonia, specifically in Puerto Natales, from here we can recovered all this vast territory. We focus our expeditions on Puerto Natales, Torres del Paine National Park, Sierra Baguales and the surroundings.
We are inspired by the passion to explore. We travel by SUV Montero 4×4 which allow us to explore remote places of Patagonia offering security and comfort to our passengers. We focus our expeditions on Puerto Natales, Torres del Paine National Park, Sierra Baguales, Tierra del Fuego and the surroundings.
HOW TO GET HERE?
There are regular flights From Santiago to Punta Arenas of about 3.5 hours. From Punta Arenas, it is a 2.5 hour bus ride to Puerto Natales. There are also direct flights from Santiago to Puerto Natales, but they are more infrequent and expensive. LATAM, Sky, and Jetsmart airlines all fly from Santiago to Punta Arenas.
If you are coming from Argentina, you can fly to Calafate and travel by car to Puerto Natales in approximately 5 hours, by far the most scenic route with incredible views.
Puerto Natales is the hub of tour operations and the perfect location to enjoy the many jewels of Patagonia, such as hiking in Torres del Paine National Park or fishing some of the most remote rivers of the region.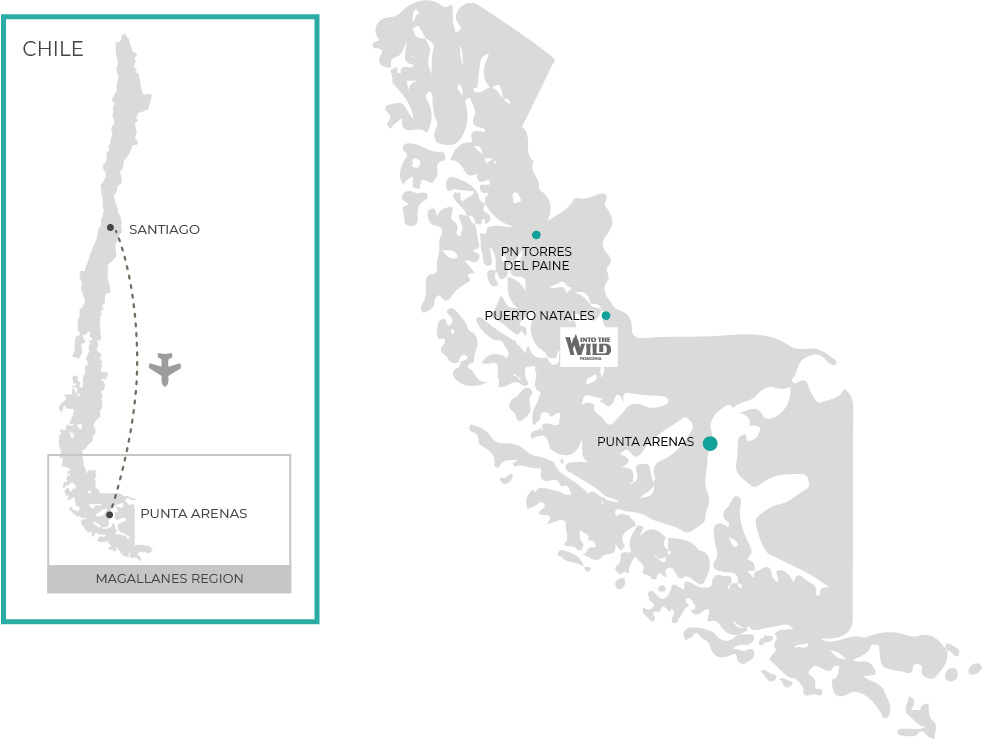 WHAT TO PACK?
Patagonia weather is characterized by its instability and variability, particularly in the summer season (November to March). In Patagonia, you can experience all four seasons in just a day, so it is important to pack appropriately for sun, wind and rain. Temperatures vary from 34°F (1°C) to 66°F (19°F). Winds can be particularly strong in summer months, so don't forget your windbreaker!
It is recommended to dress in layers and bring a daypack to be prepared for the variable climate, though we always hope for temperate and dry days.
Our outings are designed according to our passengers' requirements and priorities, so we have created an excursion program to fulfil the different needs of each person. We also want to be involved in your experience and we are thrilled to work with you for a tailor-made expedition. Get in touch with us to plan your next adventure! Into the Wild Patagonia
Puerto Natales, Magallanes Region, Chile
Phone number: +56 9 9679 7067 - email: info@intothewild.cl